Ljubljana is the capital and largest town in Slovenia. It has been the educational, cultural, political, economical and administrative centre of Slovenia since 1991. Ljubljana's top attractions are Ljubljana Castle, Plecnik's Ljubljana, Central Market, Dragon Bridge, Presernov trg Square with the Franciscan Church, the Cathedral, the City Museum of Ljubljana, Town Hall, National Gallery of Slovenia and Tivoli Park.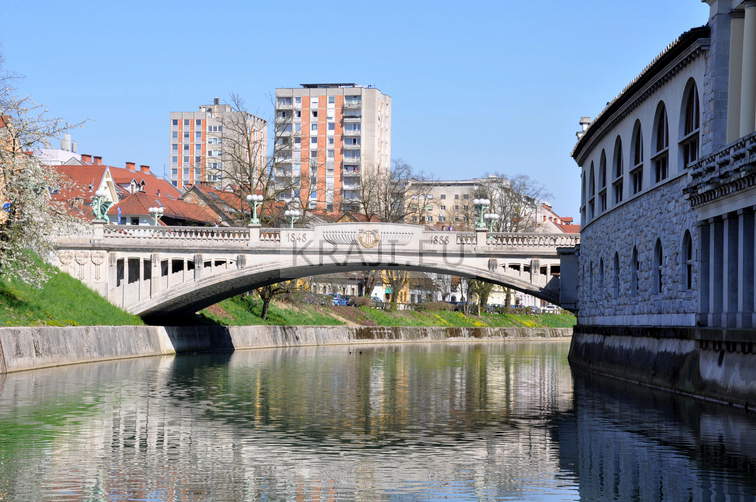 The dragon represents a symbol of Ljubljana. It has been reigning in the town coat of arms since the late Middle Ages. Imposing designed dragonfly sculptures at the Dragon Bridge are both spectacular and dreadful at the same time. The Dragon Bridge appears in the most noticeable photos of Ljubljana. The four dragon statues are a showpiece which has been rousing imagination since the bridge was built in 1901.
The Dragon Bridge is an excellent example of Art Nouveau architecture and a special formation considered to be a remarkable piece of technical heritage. It was Ljubljana's first fortify concrete structure and one of the largest bridges of its kind to be built in Europe. It replaced an old wooden bridge named Butchers' Bridge, which has been on its side from 1819.
At the time of its opening, it was named the Jubilee Bridge of Emperor Franz Joseph I. The construction plans for the bridge were prepared by Professor Josef Melan, a popular engineer. The bridge was supposed to be decorated with winged lions instead of dragons. It was the first structure in Slovenia to be paved with asphalt. The bridge was given its Art Nouveau appearance by the famous Dalmatin architect Jurij Zaninovic.